**PLEASE NOTE: This course version, along with the exam, is being sunsetted. All exams need to be requested prior to 10/31/2021. DevOps Institute will not approve any exceptions. We recommend you request your exam by Friday, September 17th – or earlier.
This product you are viewing is for access to robust, independent study materials. We recommend a minimum of 6 study hours when preparing for the exam.
This is self-guided learning, our materials allow you to master the subject matter at you own pace. Once the Learner Portal key has been redeemed, no credits or refunds can be issued. This course is also available for corporate training for you and your team.
"If you can't describe what you are doing as a process, you don't know what you're doing." – W. Edwards Deming
A process owner is an individual accountable for the performance of a process and for ensuring the process delivers value to its stakeholders. Process owners manage the requirements of process stakeholders, translate those requirements into process performance objectives, and oversee the entire process design and improvement lifecycle. A Certified Agile Process Owner (CAPO) is the operational counterpart to a development Product Owner. Working together, Process Owners and Product Owners can instill agile thinking into the entire IT organization as the basis of a DevOps culture.
Topics covered:
Guidance into the process owner responsibilities
How to use Agile with ITSM (ITIL) to make your processes more robust and… well Agile and Lean (better, faster, safer)
Provides education needed to oversee the design, re-engineering and improvement of IT Service Management (ITSM) processes; particularly in the context of Agile Service Management
How to use Agile and Lean principles and practices to put in place 'just enough' process and how to continually align process performance with overall business goals
Independent Study Access includes:
24×7, lifetime access to ITSM Academy's Learner Portal – my.itsmacademy.com – with online content and tools

Comprehensive Learner Manual (visual, no audio) – see detailed agenda
Additional industry related videos and resources
Class Reference Card
Personal Action Plan
Memory exercises, study aids and sample exams

Fun, interactive online games to reinforce your learning
Exam voucher (if purchased with course, is issued upon request)
Learning Objectives: The learning objectives for this course include an understanding of:
Basic Agile and Agile Service Management concepts
Process owner role and responsibilities
Managing and prioritizing a process backlog
Creating and utilizing user stories
Collaborating with process stakeholders and other process owners
Overseeing Agile process design and improvement activities
Managing organizational change activities
Monitoring and measuring process performance
Conducting process reviews and identifying improvements
Audience: The target audience for the CAPO course is:
Process owners
Process managers
Employees and managers responsible for designing, re-engineering or improving processes
Consultants guiding their clients through process improvement initiatives
Anyone responsible for:

Managing process-related requirements
Ensuring the efficiency and effectiveness of processes
Maximizing the value of processes
Professional Education Hours: Individuals attending this class will earn 16 professional education hours (e.g., PDUs, CPEs, CEUs) upon completion of this course. These professional education hours can be submitted to associations such as the Project Management Institute and ISACA, if applicable.
Prerequisites:
Exam & Certification: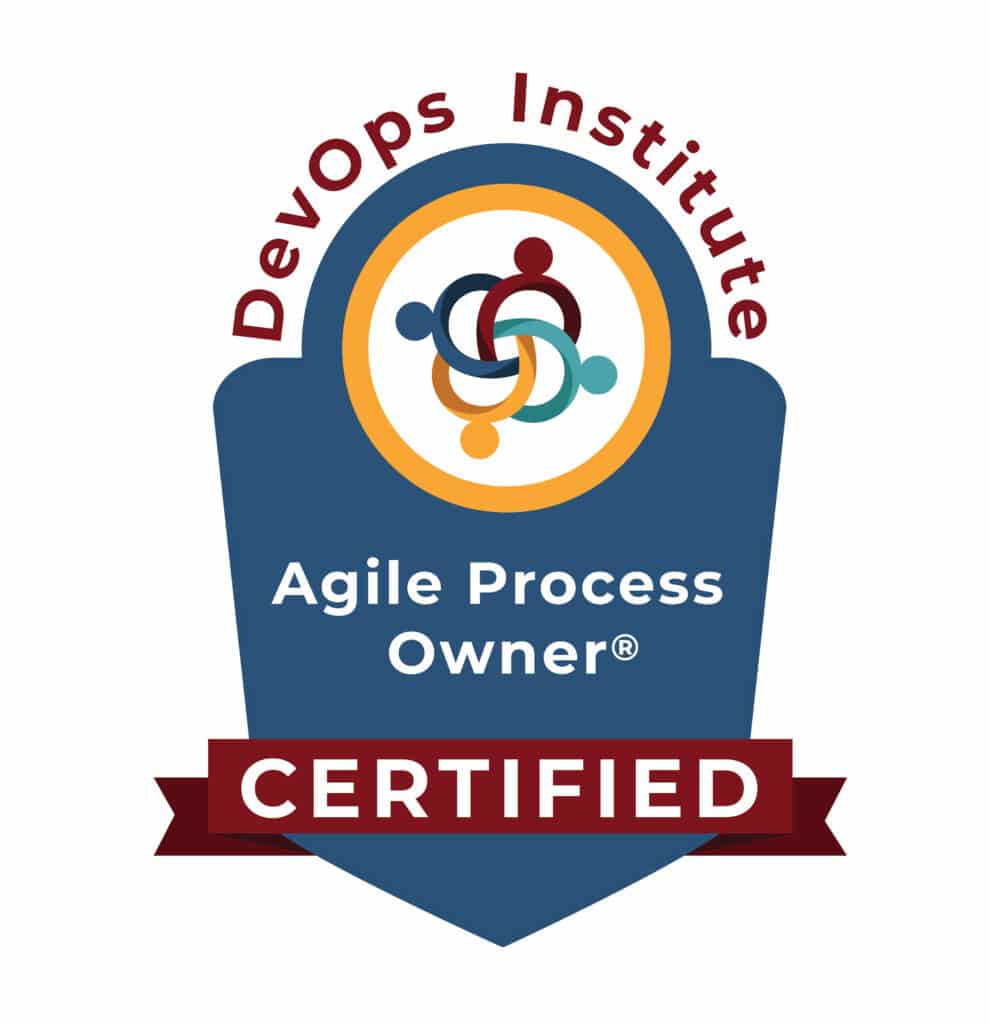 The exam can be purchased bundled with this material or at a later date here.
The certification is governed and maintained by the DevOps Institute, the exam is optional. By not making the exam a requirement of the course, we are able to save you both time and money! If you choose to take the exam, a voucher will be issued upon request.
Successfully passing (65%) the 60 minute examination, consisting of 40 multiple-choice questions, leads to the Certified Agile Process Owner certificate. Successful candidates are issued Digital Badges to be shared in Social Media.
---
You can click here to order your class with ITSM Academy. Don't forget to use code OWLPOINT#10 for 10% off.