OwlPoint is proud to announce that we have been recognized by CIO Magazine as one of the 20 Most promising solution providers in 2018. This is a great honor for us and a testament to the hard work and talent of OwlPoint's consultants.
As part of the recognition, OwlPoint along with founder and CEO, Mark Blanke, were highlighted in this issue. You can read the full article here .
CIOReview Magazine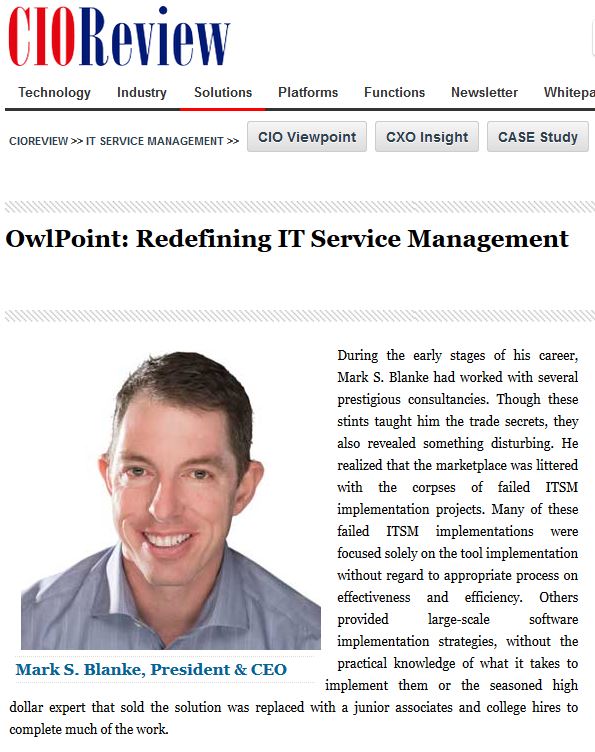 CIOReview is a technology magazine that talks about the enterprise solutions that can redefine the business goals of enterprises tomorrow. It is the leading source that shares innovative enterprise solutions developed by established solutions providers, upcoming hot enterprises and is a neutral source for technology decision makers. Published from Fremont, California, CIOReview is an excellent platform for the enterprise to showcase their innovative solutions.
OwlPoint: Redefining IT Service Management
As one of the 20 Most promising solution providers in 2018, OwlPoint details are shared including founder Mark Blanke's journey as a marketing consultant to his realization of an abundant number of failed ITSM implementations.
Mark Blanke set up and laid the foundation for OwlPoint to deliver high-value service that empowered companies who were tired of relying on expensive consulting practices that took too long and were over priced.
The OwlPoint Difference
OwlPoint works closely with clients in the form of a well aligned business partner. They take the time to fully understand the needs of their client and the specific outcomes they're looking for.
According to Blanke, "We are much different from the traditional type of consultancies. Our complete focus is on the customer's actual requirements and the right implementation processes. Our superior services are customer friendly and the projection implementation techniques work well withing their budgets".
The company is technology agnostic, giving it an objective tool box to assess and implement effective programs that move organizations forward. OwlPoint has been and continues to be a truly valued IT service partner to many local and international companies across different industries. From Fortune 500 companies to local businesses, OwlPoint is a valued partner.
To learn more about OwlPoint, please visit our About Us section.