As part of OwlPoint's commitment to ITIL 4, we have developed an ITIL 4 Readiness Evaluation tool. This free web-based tool will help organizations take the first step in preparing for the updated ITIL Framework. By answering a set of simple questions about your current organization and capabilities, the app will provide you some feedback and guidance on how to move forward with adopting the ITIL 4 best practices.
Click HERE to give the ITIL 4 Readiness Evaluation Tool a try.
The Readiness Evaluation tool was designed to help organizations assess preparedness and offer recommendations on next steps. The tool walks users through a series of questions to define readiness.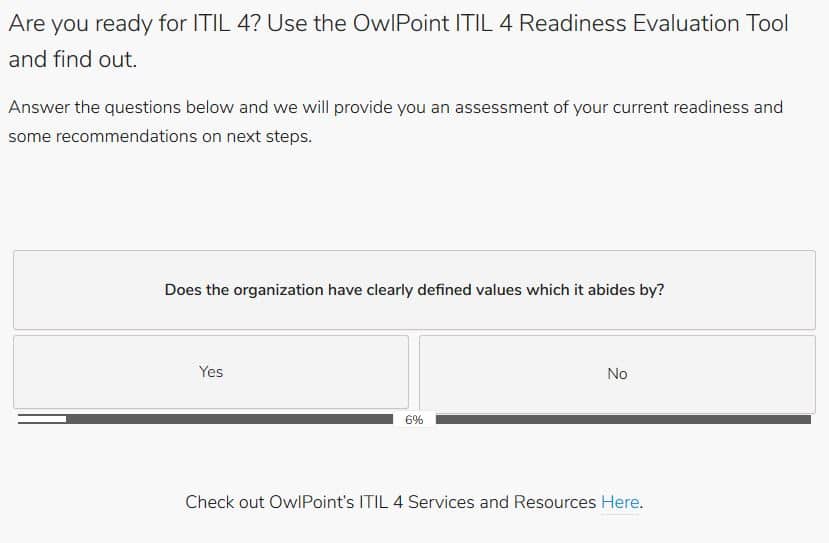 Sample questions from the tool include:
How large is the organization interested in adopting ITIL 4?
Does the organization have clearly defined values which it abides by?
Do you have a governance board that oversees an ITSM program and/or ITIL processes?
How To Assess Your ITIL 4 Readiness
The ITIL 4 framework provides a flexible foundation for organizations that need to integrate various frameworks and approaches into their service management operating models. But not all organizations are ready for change?
This is where an ITIL readiness assessment can help. By understanding what you currently have in place, what's needed, and your organization's willingness to navigate the new technological era of digital services, you can better determine readiness.
Our tool walks you through the key questions you must answer to not only determine where you are but what's needed to get there. Use this free tool to assess your organization and receive recommendations.
This is the first version of the application to assess your readiness. We plan to continue to provide enhancements to it. If you have any feedback or comments on the tool, please feel free to reach out to us at itil4@owlpoint.com or contact us